Polka Never Dies
Date de sortie: September 28, 2010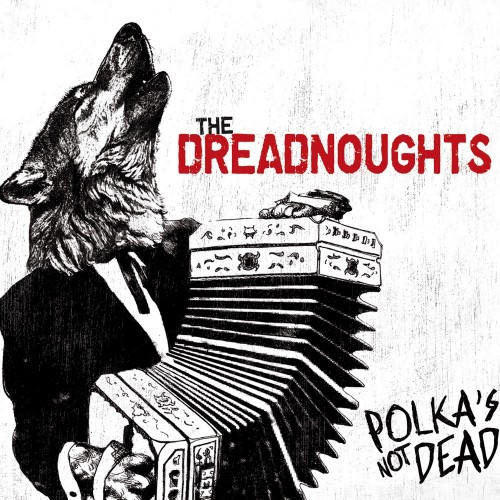 Pistes
1: Cider Road
2: Polka Never Dies
3: Gintlemen's Club
4: Randy Dandy-Oh
5: Goblin Humppa
6: Poutine
7: Turbo Island
8: Black Sea Gale
9: Clavdia's Waltz
10: Paulina
11: West Country Man
12: Sleep Is For The Weak
13: Za Smierc Przyjaciela
Polka Never Dies
Date de sortie: September 28, 2010
Pistes
1: Cider Road
2: Polka Never Dies
3: Gintlemen's Club
4: Randy Dandy-Oh
5: Goblin Humppa
6: Poutine
7: Turbo Island
8: Black Sea Gale
9: Clavdia's Waltz
10: Paulina
11: West Country Man
12: Sleep Is For The Weak
13: Za Smierc Przyjaciela
Formé en 2006 au Ivanohe Hotel, bar de East Vancouver réputé pour sa violence, autour de
centaines de pintes de bière, THE DREADNOUGHTS s'effila les dents dans les boîtes les plus
louches en ville. Rapidement, ils se voient offrir d'ouvrir pour les doyens du punk celtique The
Real McKenzies (et du coup de recevoir leur appui) et depuis, jamais ils ne regardèrent en
arrière. Faisant résonner violon, accordéon, mandoline, flûte, guitare et batterie dans tout endroit
qui voulait bien les accueillir, ils devinrent rapidement reconnus pour leurs concerts puissants et
chaotiques. En quatre années d'existence, THE DREADNOUGHTS rejoignit les rangs de l'élite
punk canadienne, traînant son cirque infernal jusqu'aux quatre coins du globe.